Often times, a native son is the one who best utilizes his own success to make life better for the people of his homeland. Understanding the struggles of his fellow man, Dr. Adrian Fox saw a need and works diligently to ensure that his fellow native Bahamians is improving. At a young age, Dr. Fox began working in the service industry, just like many other young Bahamians before him. He initially began working at Captain Nemo's, then the Café Martinique, and later 5 Twins. Each of these restaurants were a part of the Atlantis Resort vacation destination, a major employer in the area. These jobs would teach a young Adrian Fox the value of hard work, and he would learn many entrepreneurial skills while observing those around him in the restaurant industry. 
Adrian Fox today is chiefly and innovative pioneer, but, he has never forgotten his humble beginnings. His early life and his observation of those around him who struggled instilled a desire to not only better himself, but to use his success to benefit others. Young Adrian attended St. Bedes Primary School and later Donald W. Davis Middle School. At this time he began working in the service industry, as so many Bahamians do. Adrian was committed to completing his education, and he graduated from R. M. Bally High School while continuing to spend his hours outside school working. It was during his late teens that Dr. Fox began to show a penchant for entrepreneurship.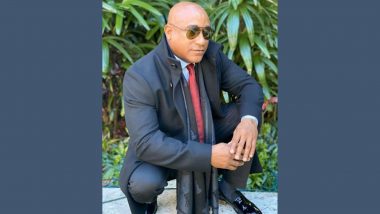 As an older teenager, Adrian would begin managing a hair salon, a car phone business and a newspaper stand. This was in addition to Adrian's school schedule and his work schedule at the Atlantis vacation resort. Young Dr. Fox was never idle; he was either studying or working. He knew this was his only way to a successful life, and he worked tirelessly to learn everything he could regarding successful business practices.
Once Adrian graduated from high school, he threw himself into his entrepreneurship endeavors full time. He opened and oversaw operations at Foxies Restaurant and Bar, Foxies Liquor, and a clothing enterprise: Obsession Designs. Everything young Adrian had learned, he applied in these upstart businesses. He would soon make a great expansion into the tourist industry.
Dr. Fox continued to grow businesses and invest in new operations at the same time. He would open the Island Luck, which is a premier gaming and lottery service in the Bahama Islands. He would then begin to consider real estate as a new venture; he opened Brickell Real Estate as a result. Later, he would establish other businesses including ILTV and Tresor Rare Parfumerie.
Yet, with all his success, Dr. Fox was never far from his roots. With all the descriptions of Dr. Adrian Fox: entrepreneur, innovator, pioneer, one more description needed to be added – philanthropist.
Dr. Fox has always had a heart for his fellow Bahamians. The Islands are exceptionally beautiful, and tourists love to visit, but the natives are often shackled to low-paying jobs, very little educational opportunities, not to mention the fact that many Bahamians experience devastating natural disasters that serve to wash away most anything native Bahamians have worked to build. Dr. Fox particularly understands how his fellow Bahamians work to better themselves, yet so many seem stuck in a cycle of poverty. Dr. Fox then decided it was time for him to give back to the community. 
Dr. Fox saw one common denominator in the cycle of poverty in the Bahamas – the occurrence of natural disasters, typically devastating hurricanes. This idea lead innovator Dr. Fox to establish the Fox Foundation, Dr. Fox's vehicle for philanthropy in his homeland.
In the Caribbean, hurricanes are a common occurrence. Often, before people can even begin to clean up from one hurricane, another one is poised to hit the Islands once more. To add insult to injury, many times these hurricanes produce storm surge that ends up flooding various parts of the Caribbean. As Dr. Fox had seen the devastation of his beloved homeland firsthand, he felt this was the first place to begin assisting his fellow man. The hurricane and subsequent flooding in St. Vincent was the catalyst for Dr. Fox' establishment of the Fox Foundation.
Dr. Fox has been quoted as saying: "Possessing direct experience of living through a natural disaster . . . (I am) deeply attuned to the difficulties" the people of the Islands face in the wake of a hurricane. In 2019, Dr. Fox commandeered the Fox Foundation to action. He put members aboard private ships to go to the Abaco area of St. Vincent to evacuate those stranded by the powerful storm and subsequent flooding. For those who did not leave, he had still other Fox Foundation members to distribute water and food as well as generators for hurricane and flooding victims. Dr. Fox then set up a GoFundMe account specifically for the people affected by the St. Vincent hurricane. 
Dr. Fox didn't stop there. He utilizes the Foundation to assist Bahamians who have been affected by the recent lack of tourism due to the pandemic and other natural disasters that have greatly slowed the flow of visitors to the Islands. Yet, Dr. Fox isn't simply providing a handout to his fellow people. He works to provide ways that people can get an education and training in order to work in other industries outside of tourism. It is his heart for his fellow people that pushes Dr. Fox to work to better life for his beloved Bahamians.